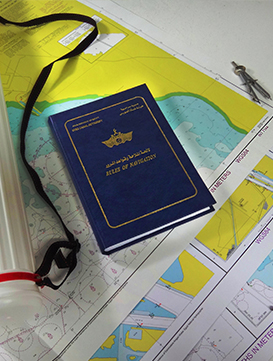 CHARTS & PUBLICATIONS
With over 50 years of experience in the marine industry, we have become the only reliable and accountable company distributing Nautical Charts & Publications to both vessels whether calling Egyptian Ports or just transiting through Suez Canal.
• The exclusive agents for distributing the Egyptian Hydrographic Office's Egyptian Navigational Charts worldwide.
• Agents and Major Distributors for the United Kingdom Hydrographic Office for Nautical charts & Publications (UKHO).
• We distribute all Admiralty Digital Products including Charts in both formats; Admiralty Raster Chart Services (ARCS) and Electronic Navigational Chart (S-57), Total Tide (TTL) & Admiralty Digital List of Light (ADLL).
• Officially appointed agents for the following organizations:
o The International Maritime Organization (IMO)
o The International Telecommunications Union (ITU)
o The Stationary Office (TSO)
o Oilfield Publications Ltd (OPL)
o Brown Son and Ferguson.
o Daniamant.